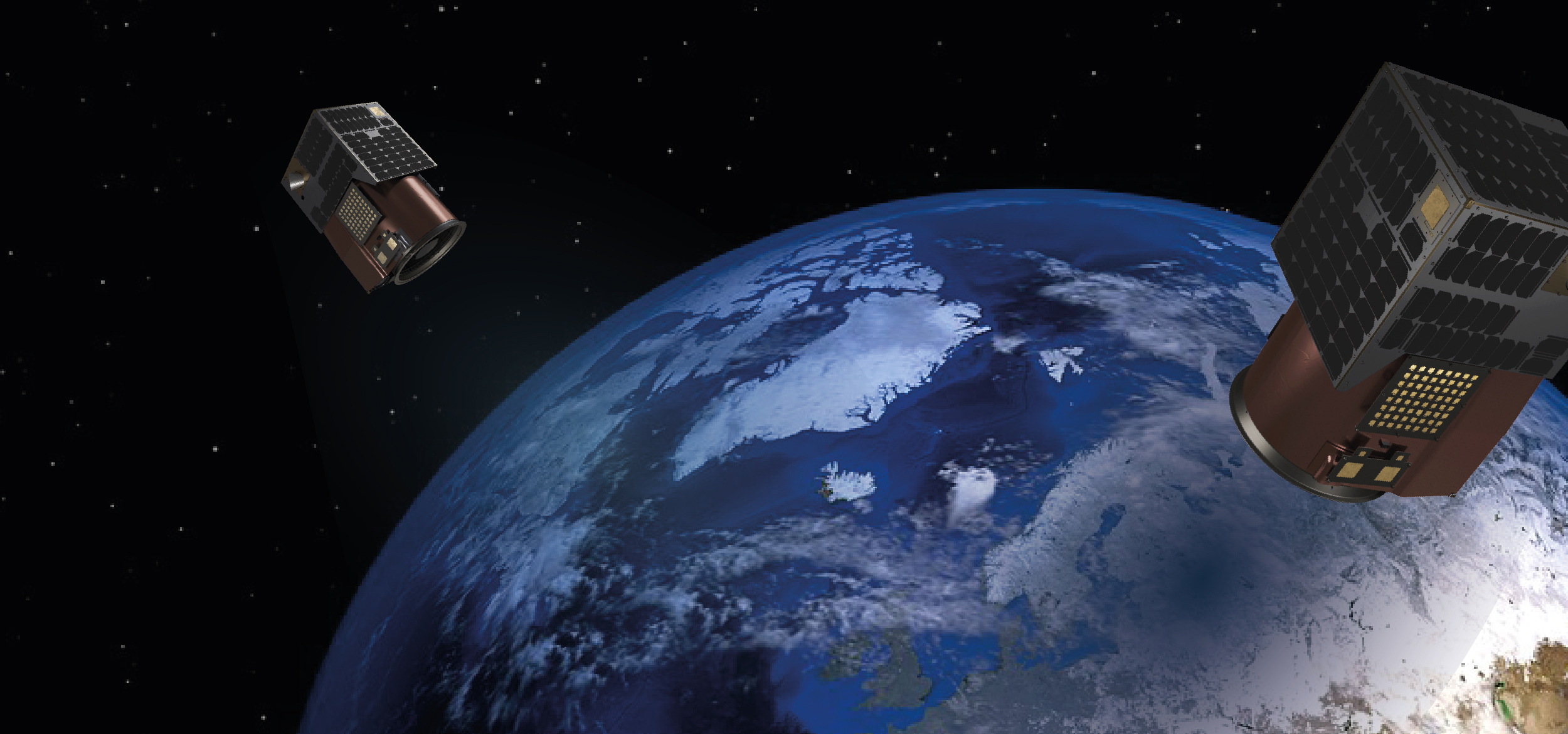 Satellogic Turns 12: Missions, Milestones, and Memories
By The Satellogic Team
Celebrating Satellogic's 12th anniversary and achievements
On July 13, 2010, exactly 12 years ago today, Emiliano Kargieman (EK) and Gerardo Richarte (Gera) founded Satellogic. As if they had planned it, our twelfth anniversary merrily corresponds with many other particulars that also bear the number 12. Drawing on those coincidences, we asked longtime colleagues to share their favorite memories, having witnessed the company transform from a startup to a global leader in Earth Observation data.
From naming the first satellites after a popular South American dessert to meeting with former NASA technical auditors, the stories are a light-hearted peek behind the cleanroom curtain.
1 – Twelve missions
At Satellogic, we're turning 12 today, and so it happens that, since our foundation in 2010, we've launched 12 missions to space, each boosting our founders' pledge of making Earth Observation data accessible. We launched our first satellite, CubeBug-1 (known as Capitán Beto), in April 2013, and we now have 26 high-resolution satellites in operation. In 2018, we inaugurated the tradition of naming our satellites after trailblazing women in STEM, and we plan to get many more satellites in orbit soon — so stay tuned to find out which women in STEM we'll honor next.
2 – Twelve NewSat models
We design, manufacture, and operate our own constellation of Earth Observation Satellites, or the NewSat. And yes, to date we have produced twelve versions of our NewSat model. We're now sending our NewSat 12 model into space. It's the twelfth iteration of a formidable undertaking that has seen the technical team upgrade the specs yearly, with 23 granted patents and 46 pending patents applications to this date.
3 – Twelve countries
On the occasion of our twelfth anniversary, we're proud to highlight we have employees across 12 countries, with locations ranging from R&D centers to Assembly, Integration, and Test (AIT) facilities across the globe. One of the last announcements on that matter is the development of our High Throughput Plant in the Netherlands — which will drastically increase our production to achieve and maintain our goal of daily global remaps.
4 – Keeping it clean
David "Vila" Vilaseca, Research Director — since 2012
I remember the first image from a NewSat — after working on the first generation of its camera and telescope. Particularly the telescope, which required a last-minute complete redesign. It was a fantastic moment to see that all those endless nights and days finally paid off with a working Satellite Payload.
I can't forget the first cleanroom in our offices on Roseti street. It was an unused attic, filthy and falling apart. We went with EK to Easy (an Argentinian home improvement store) to buy some tables and plastic sheets to wrap everything and build the homemade cleanroom. I think the cashier thought we were into some nasty business. I also remember taking NewSat 3 out of the cleanroom to the clear sky to take pictures of the moon — our only chance to perform a wide field of view measurement on telescope quality. We didn't have a collimator at that point!
5 – Do you want to make satellites?
Nicolás "Nico" Amaro, Program Manager in Mission & Operations — since 2013
I will never forget when Kharsa — Systems Engineer Alan Kharsansky — called me to join the team. I remember that day as if it was yesterday. I was in the university, and when I saw that Kharsa was calling, I answered trembling, suspecting what was coming! And he said: "Hey Nico, how are you doing? Do you want to make satellites?!" My reaction was, "Are you kidding me? Where do I put my signature?" We arranged an interview for the next day, and he sent me the address of the famous Roseti office. By that time, I was daydreaming and simultaneously completely scared, as I knew almost nothing about what a satellite was. So I went to the office to meet Gera, expecting to meet him in an office with a sight of the river, pure white things, and all that stuff you can imagine from a fancy satellite laboratory. Well, Roseti was the antipode of that laboratory.
When I arrived at the address, I double-checked if I got the correct address and called Kharsa, and told him something like, "Hey K, I'm outside… Is this the right address?". Roseti was an old house, where we had only one small room to do everything. I entered the room. I said hi to everyone and knew that from that room, a lot of magic was spilling out.
Vila was building the engineering model of Manolito (Cubebug-2). Gera was barefoot, as usual. And they just had two monitors for the entire team. Everyone with their personal computer making satellites, and tons and tons of ingenuity. Gera interviewed me, told me about the project and how they were hacking the space, and finally offered me the job. When Gera told me what they were doing and how they controlled the technology, I felt like a kinder boy in front of giants. I would not have hired myself. That was the first and the biggest lesson I learned in Satellogic. I remember that every day, and particularly every time I interview someone.
The next day I joined the team and started this fantastic journey. By that time, we were more or less 10, and we had no space for everyone, so Gera was working on the floor without a desk. There we built Manolito and designed Tita.
6 – This ain't software
Gisela "Gise" Rabinowicz, Marketing Analyst — since 2013:
I knew EK, Gera, and Maxi from a previous job at a software company. We worked together for several years until they left the company to create — from the ground-up, honestly — a new satellite-related one. At that moment, I thought it was fascinating that they were pivoting from software to… satellites!
So as soon as I left my job, I called Maxi to tell him the news, and he said: "Come on Monday, we will work together again — only this ain't software." I got to Satellogic's offices, and, within minutes, EK entered the room and told us: "Listen, this company will be small — no more than 20 employees." Or did he say 12? Not that it matters. Nine years later, that anecdote is amusing: We have more than 400 colleagues worldwide!
During these years, Satellogic taught me how to push my limits and how never to stop learning. All in all, Satellogic allowed me to grow as a professional and, most importantly, as a person.
7 – "Imagination is more important than knowledge."
Maximiliano "Maxi" Waissbein, VP of Finance and Administration — since 2012
I have two things in my mind—one personal, which was my job offering. EK contacted me and asked if I knew someone who could help him set up the Accounting, Finance, Legal, HR, and other operational functions for his new endeavor. I got back to him saying that all my friends who I would recommend were working, and the rest of my friends are my friends, but would never recommend them for a job (except perhaps for beer and wine testing). A few months later, he came back to me with the same question, and I got back to him with the same answer. EK doubled down and told me: "Well, then it should be you for the role." One week later, I met with EK in Bariloche and started this new, wonderful adventure.
The other thing I have on my mind is our first cleanroom. The first cleanroom was in our office in Roseti street, in Buenos Aires. We needed a cleanroom, but we were far away from having enough cash to build one, so we assembled a homemade cleanroom in Roseti's attic. As Einstein said, "imagination is more important than knowledge." and that's how we built the cleanroom. The entrance to keep the fresh air while avoiding dust from getting in was similar to the one you can see in a butcher shop, and since it was summer, and it was very hot, we used a portable air conditioner (nevertheless, the team had the feeling of being in a sauna). The floor (thermostatic best-of-breed) was a thick EVA floor mat identical to the one Lorenzo — my baby — has in his playroom. Under those conditions, we integrated our satellite Manolito. I like this anecdote as it is a nice example of our "get it done" ethos that drove us back then.
Last but not least, I remember when we discovered a potential new office in Scalabrini Ortiz street, where the Buenos Aires offices are now. At that time, we had just started operations at Satellogic, and we were about to launch one of our satellites. In one week we needed to negotiate and close the lease deal, move out, and handle the office inauguration and launch party — the first event in Scalabrini Ortiz.
We ran a lot with Gise and got it done. After that event on our first week in the office at Scalabrini Ortiz, the carpet was "made-up" with wine and champagne.
8 – I joined a dream
Gimena "Gime" Ratto, Global Procurement and Logistics Manager — since 2015
In 2015, we worked many hours, days, and nights with great enthusiasm to launch satellites Fresco and Batata — the name of a popular South American dessert made out of cheese and sweet potatoes. The uncertainty, the adrenaline, the difficulty, and the shared dream made a small team quickly come together and be able to put two satellites of a new design into orbit, which in the first pass confirmed the success of so much effort. In the beginning, we were a small team. There were no systems, no procedures. I remember working on the small mechanics' laboratory floor with Jose and Gise to check out the supply for Maite. Everything had to be created, and being part of that was what captivated me.
In no other job have I seen friends hug each other and cry emotionally for having achieved a goal. The difference between Satellogic and my previous jobs is that I joined a dream. We not only meet goals, but also dream and make them come true.
I remember a photo of my beginnings, with Jose — Program Manager Josefina Álvarez Toledo — and Gise, all of us sitting on the floor while having a meeting. It represents the spirit of that moment so well. There's also a picture I remember, taken with Gera and Fede, with the satellites ready to go!
9 – Do satellites dream of somersaults in space?
Mariano Sternheim, Director of Design and Technology Strategy — since 2015
In February 2016, we launched NewSat 1 and 2, known as Fresco and Batata. The issue was that, at first, Fresco and Batata's star trackers didn't work. We quickly realized how to fix them for Milanesat — the upcoming satellite to be launched — but we needed to come up with something for our flying satellites because the rest of the subsystems depended on us to perform their validations.
So we came up with something. We made the satellite spin! The Operations team nicknamed it the "somersault" — the satellite would spin three times (thus orienting itself with Earth's magnetic field) and then point to the target. That did it. With the "somersault," we were able to hit targets with impressive accuracy. Good enough to allow engineering to keep going.
10 – … And we like to play games
Gerardo "Gera" Richarte, Co-Founder and CTO — since 2010
The early days were a brain rollercoaster, with infinite things to learn and solve. The first was to figure out if nature (or physics) would let us capture awesome quality sub-meter resolution images from a tiny, light, low-cost satellite. We had many ideas. For our satellites, light is not enough unless you play games with them, and we like to play games. Usually, the problem disappears into another dimension once you find a solution. Still, this time, everybody was saying, "that's not going to work," so we had to think about it over and over again.
The first big quasi-validation was during an early investment round, when a technical auditor flew to our office in Buenos Aires to meet with us and find out why our plan would fail — and miserably. I sadly don't remember who it was, but he had tremendous credentials (Optical payload design for other satellites, NASA, etc.). I remember we shook hands before the critical meeting, and he said something like, "I know what you are trying to do; it's not going to work." We had the meeting, and when he left, he said, "I like what you are doing, this is great, it's a great idea; I look forward to seeing it working," his eyes shining with enthusiasm, which he luckily expressed in writing to the investors.
Then came many other adrenaline shots as we validated milestone after milestone, getting sharp and illuminated images, measuring (good) MTF, reconstructing color images, matching existing satellite images, capturing our neighborhoods, and finally, learning about the happy customers and getting validation from experts. However, I still remember that first eye-shining enthusiasm by a seasoned expert as one significant push that helped me gain enough confidence to push the limits and make it real.
11 – WE HAVE BEACONS!
Sasha Hurovitz, Assembly Integration and Testing Engineer — since 2015
My most significant memory is a moment of realization. During the launch event of NewSat 1 and 2, everyone was excited, and after we heard "it was a successful launch," all of us celebrated, and some of us were crazy! "We've put two satellites in orbit!"
A lot of us… but not all of us. Gera, EK, the comms team, and satellite operations (among others) were happy, but deep down, they seemed serious. They continued like that for a while. And after an eternity we heard those words: "WE HAVE BEACONS!" and at that moment everyone went wild!
That's when it hit me. We didn't put those satellites up there: That's the rocket company's job. That's why Gera, EK and the crew didn't celebrate at first!
The years of many people dedicated to this project proved to work. "What is going to happen now?," we asked ourselves. I remember the first multispectral images of 64×64 pixels, the first stabilized images, the first HBR transmission, and the videos of airports. It was beyond my imagination what was brewing at that moment. All it needed was a little push, that small step — the beacons.
Satellogic was my first job, and I remember the interview with Gera and Vila eating ice cream with their hands all dirty, and I thought, "alright, it's gonna be a short-term job."
12 – Finding the right plane
Pablo "Pablito" Jais, Systems Engineer — since 2013
One of the milestones I remember very fondly happened when we were building NewSat-1 in March 2016. We had a very long and complex procedure for finding the right plane to place the sensor. Not only was the process not yet validated — it was the first time we were using it — but we were working very long hours every day, so the possibilities of slipping up and making mistakes were very high. We finished the procedure after several days and went back to the hotel to take a breather, but the mechanical team told us there was an error: the sensor was too tilted, according to their measurements. So we went back to the clean room and repeated the procedure, now even more tired. And to our surprise, the measurement gave us exactly the same result as before! It turned out to be a huge relief, and it gave us a lot of confidence in the procedure that we would not have had otherwise.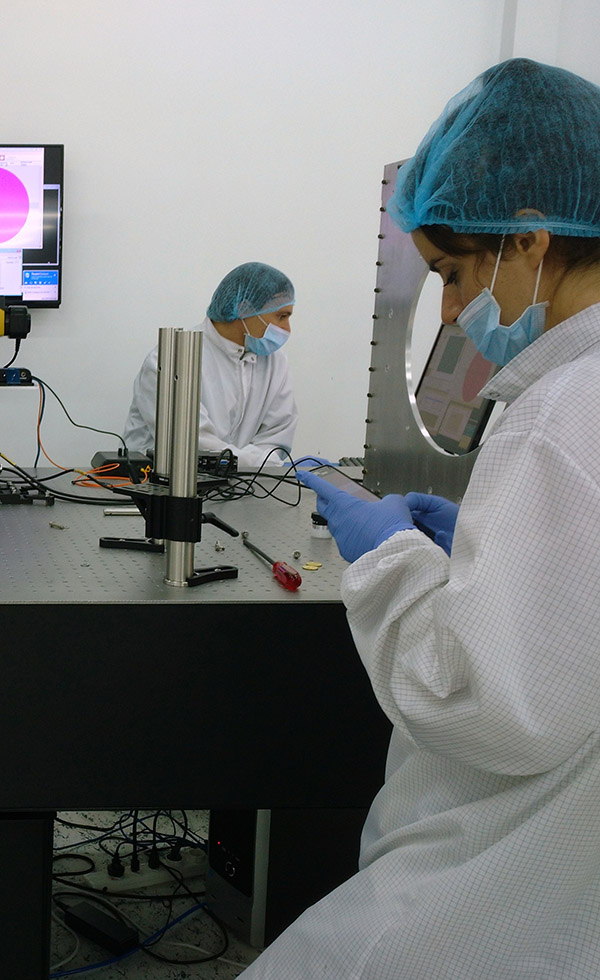 These memories of the early days and first triumphs are a reminder of where our vibrant company culture began. It is with great pride that we continue to be a team centered around curiosity, purpose, and humility. Today we celebrate 12 years, 12 missions, a team that spans across 12 nations, and countless achievements between. But this is just the beginning.