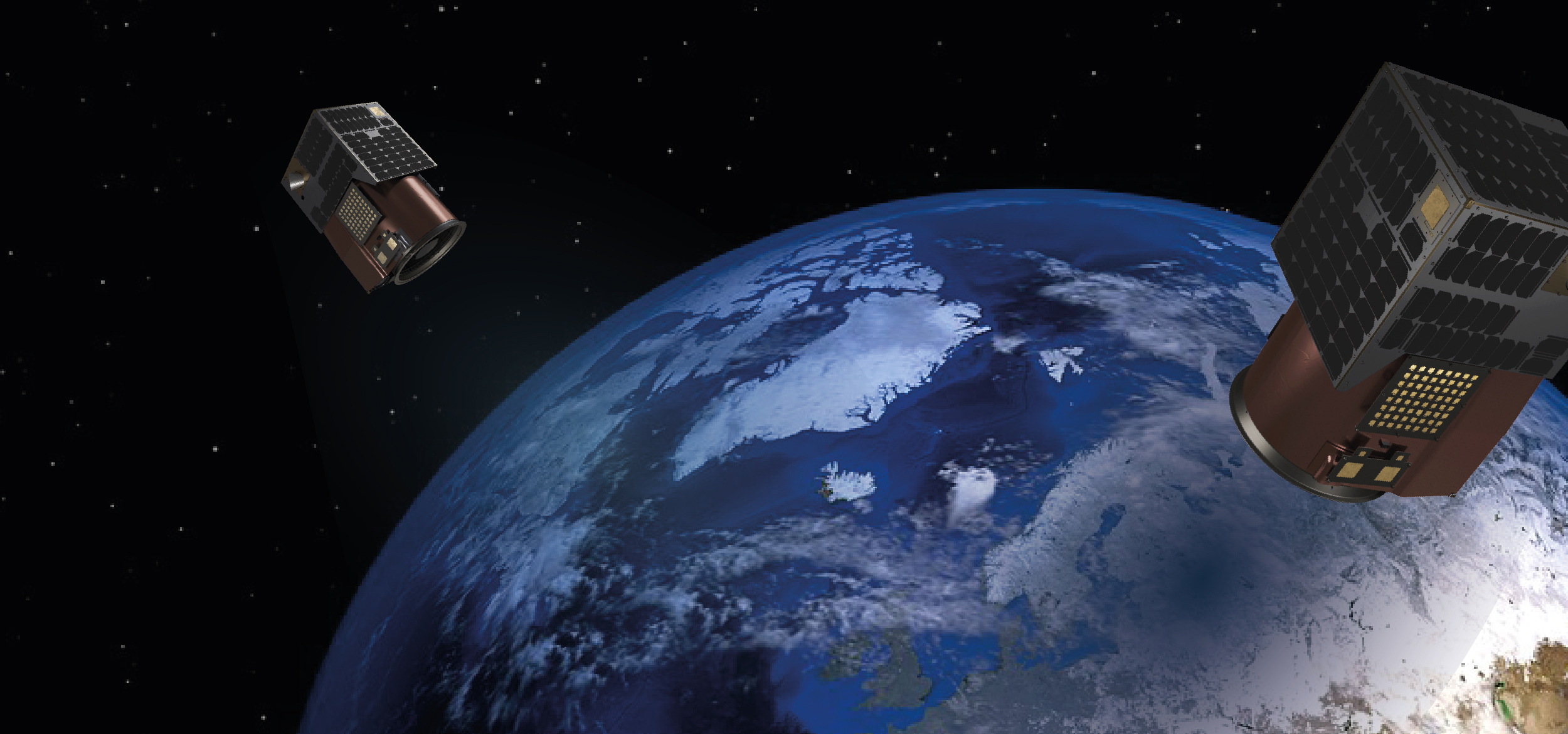 Now You See: Transparent Pricing for EO Market Growth
By Caitlin Kontgis, VP Go-to-Market
How Satellogic is able to offer the best data from space at the best price and why transparent pricing is essential for market growth
How much does a satellite image cost? It's a simple question, and every customer needs the answer. Unfortunately, the Earth Observation (EO) industry is notoriously opaque about pricing. Most pricing rates aren't revealed until you've signed an NDA. Even then, the price might vary by customer or project.
That's why Satellogic decided to publish our pricing – so customers can finally answer the question: how much does a satellite image cost? Independent assessments have already shown that Satellogic produces the highest quality imagery on the market. Now it's also clear that we provide these data at an affordable price. We want to make it easy for customers to know what it will cost to get the data they need.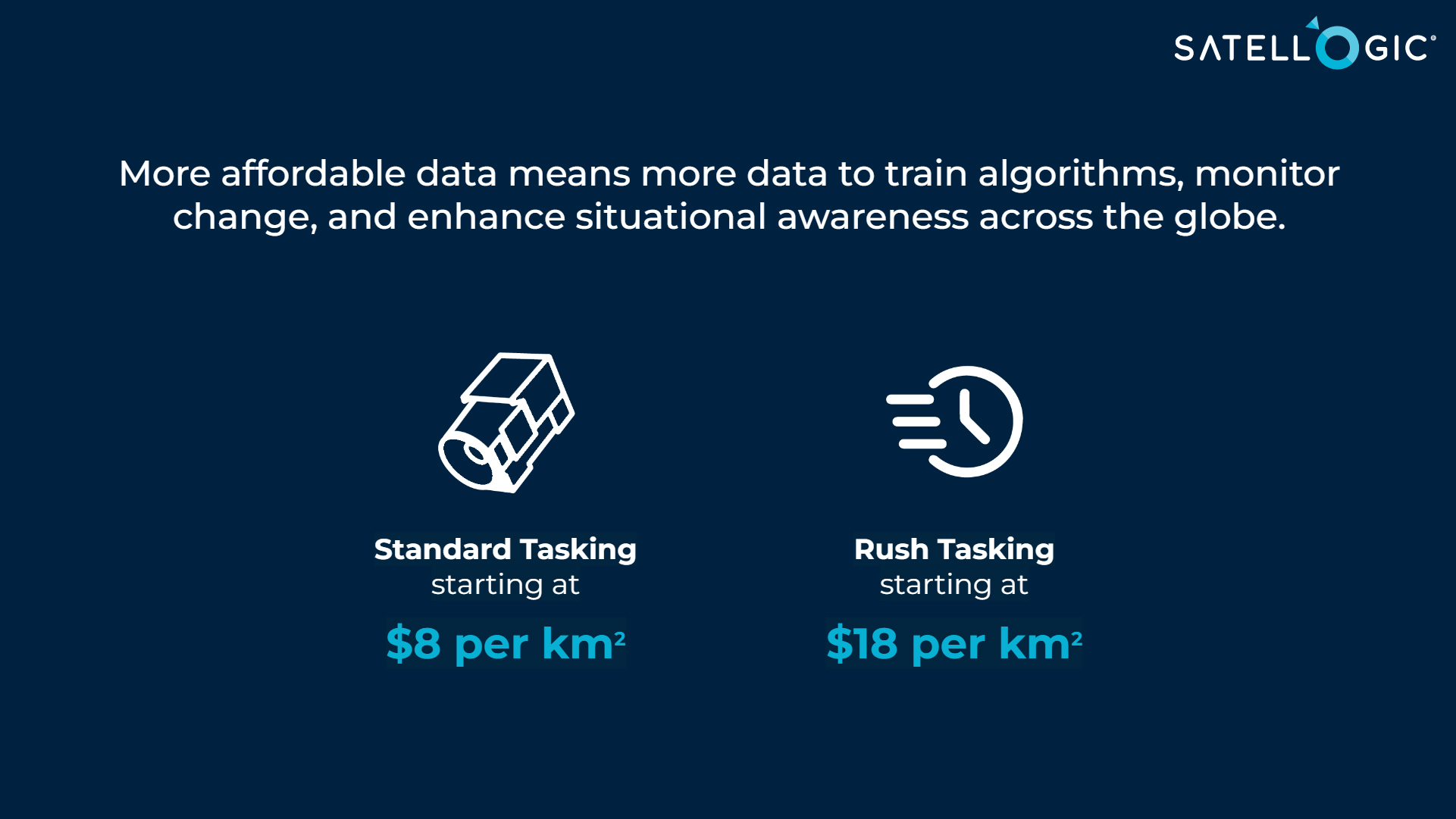 Standard
Standard tasking is for customers who need high-resolution imagery of a specific location or region, but don't necessarily need an immediate capture. For example, a customer may want to map land cover over an area of interest, but they are flexible on exactly when the image is collected – anytime in the couple of weeks is okay. A single 50 sq km image starts at $8/km2. Standard tasking guarantees 20% or less cloud coverage and an off-nadir angle of <25 degrees. For customers who want lower cloud thresholds (e.g. <10% guaranteed cloud coverage), it usually requires more tasking opportunities, so we charge an additional couple of dollars per sq km, hence the phrase "starts at." The same is true of restricted off-nadir angles. On the flip side, we provide volume discounts. For example if you commit to a lot of data over a period of 12 – 24 months, your price could be less than $8/km2.
Priority
Priority tasking is for customers who need to capture a specific event on a specific day, but they don't necessarily need to see the image right away. For example, an insurance company might want an image of a house immediately after a hurricane, but they can wait to see the image for a couple of days. For this tasking level, we task when needed and deliver the image within 3 – 7 days depending on weather. Since the customer dictates when we task, we can't guarantee what the weather will be, so therefore cloud cover fees don't apply. We aim to deliver the best clarity possible.
Rush
Rush tasking is for customers who need to capture an event and see the resulting image as soon as possible. For rush tasking, we deliver the data within 12 – 24 hours of capture. Similar to priority tasking, we can't guarantee the weather for these captures, so cloud cover fees don't apply.
At Satellogic, we believe in the power of EO data to drive positive change in the world by providing insights into environmental conservation, disaster mitigation, emergency response, among others. This is why we made it our mission to truly democratize EO data, ensuring the highest quality data is accessible and affordable. Transparency is essential in helping more leaders and organizations adopt this valuable source of information and enabling global transformation.
How are we doing this? Simply put, our satellites are much more cost-efficient to build, which enables us to pass savings on to our customers. This advantage also allows us to innovate, manufacture, and deploy satellites faster than most of our EO peers. And did we mention our data quality. At the time of publication, we have 30 operational satellites in orbit–all deployed in just three years. Satellogic aims to be the first operator to deliver daily global remaps via our goal of placing 200+ satellites in orbit. We can't wait to see what you do with it.