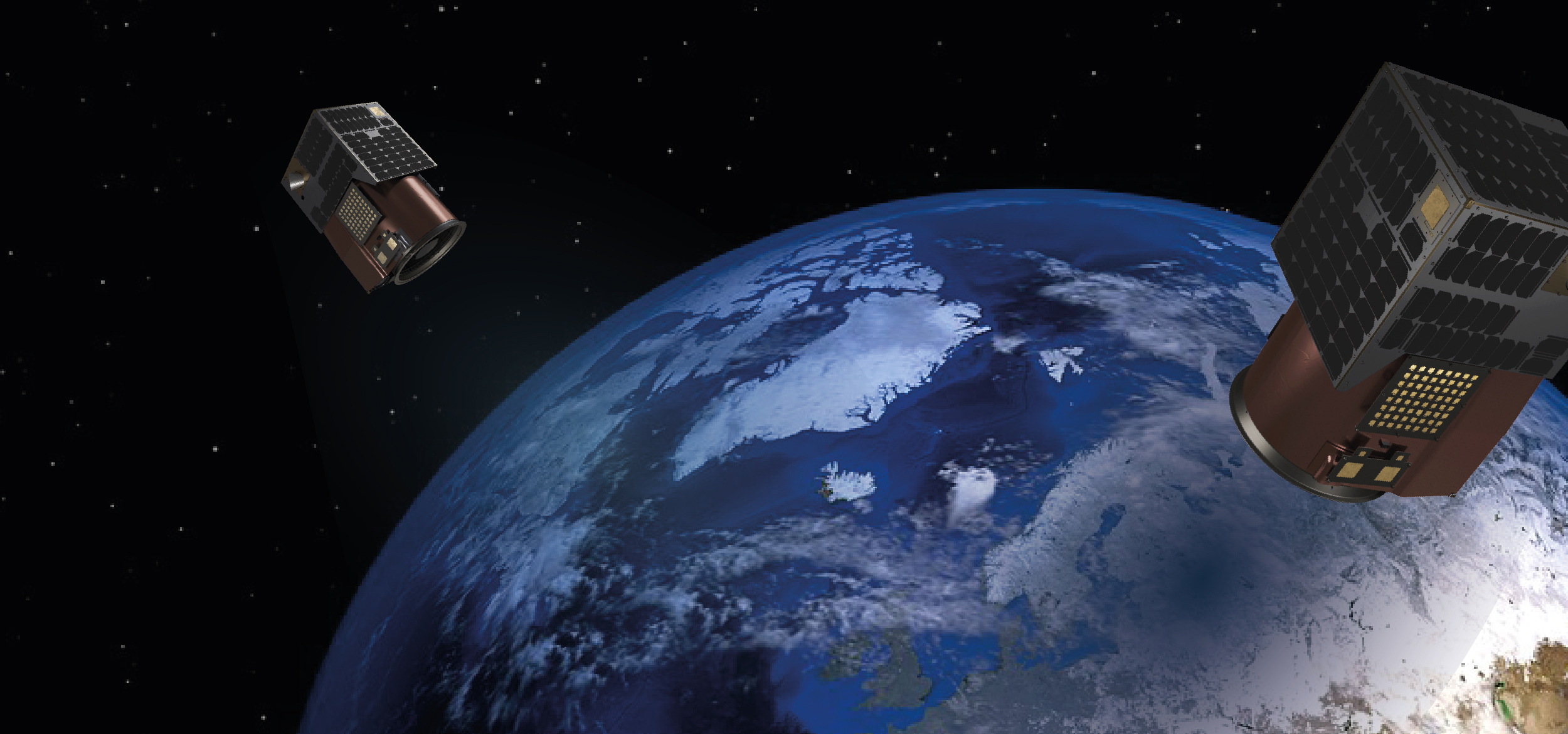 World Space Week: The Global Influence of Space
By The Satellogic Team
Space has always been a global endeavor. People from different generations, backgrounds, and nations contributed to humanity's exploration of space. To celebrate World Space Week, we list global achievements built upon diversity.
Space has always been an international and collaborative domain. The intellect and efforts of people from different generations, backgrounds, and nations have contributed to humanity's reach beyond Earth. In the spirit of World Space Week, a celebration established by the UN, we want to recognize this diversity and celebrate achievements from a global perspective.
We're listing a selection of space-related highlights that reinforce the importance of collaboration between nations for the advancement of technology that can impact our well-being:
The International Space Station
Even though it's one of the best-known examples of collaboration in science and technology, the International Space Station's (ISS) reliance on multilateral cooperation is often understated. Besides the evident technical prowess involved in designing a habitable station and delivering it to low-Earth orbit, scholars have cited the ISS's development as a salient example of multinational project management, and it has been called the "most complex international scientific project in history."
Sixteen nations, including Canada, Japan, Brazil, and eleven European Space Agency (ESA) countries, participated in developing the ISS, which launched in late 1998. With the advent of commercial endeavors to space, the ISS preserved its multinational essence: When the first private mission to the ISS took place in early 2022, it was led by a Spanish-American astronaut, joined by Israeli and Canadian citizens on the crew.
KSAT and the Tromsø Satellite Station
When we named our last satellites after four women in STEM (a tradition we inaugurated in 2018), we chose to honor Ruby Payne-Scott. Ruby, an Australian frontrunner in radio astronomy, was one of the first persons to "listen" to space with antennas.
When, in the sixties, the Norwegian government developed the Tromsø Satellite Station, they inaugurated one of the first satellite ground stations — stations that, as Ruby did, could detect radio signals from objects in space. Since the antennas could receive messages from spacecraft, the Norwegian station facilitated satellite telecommunications.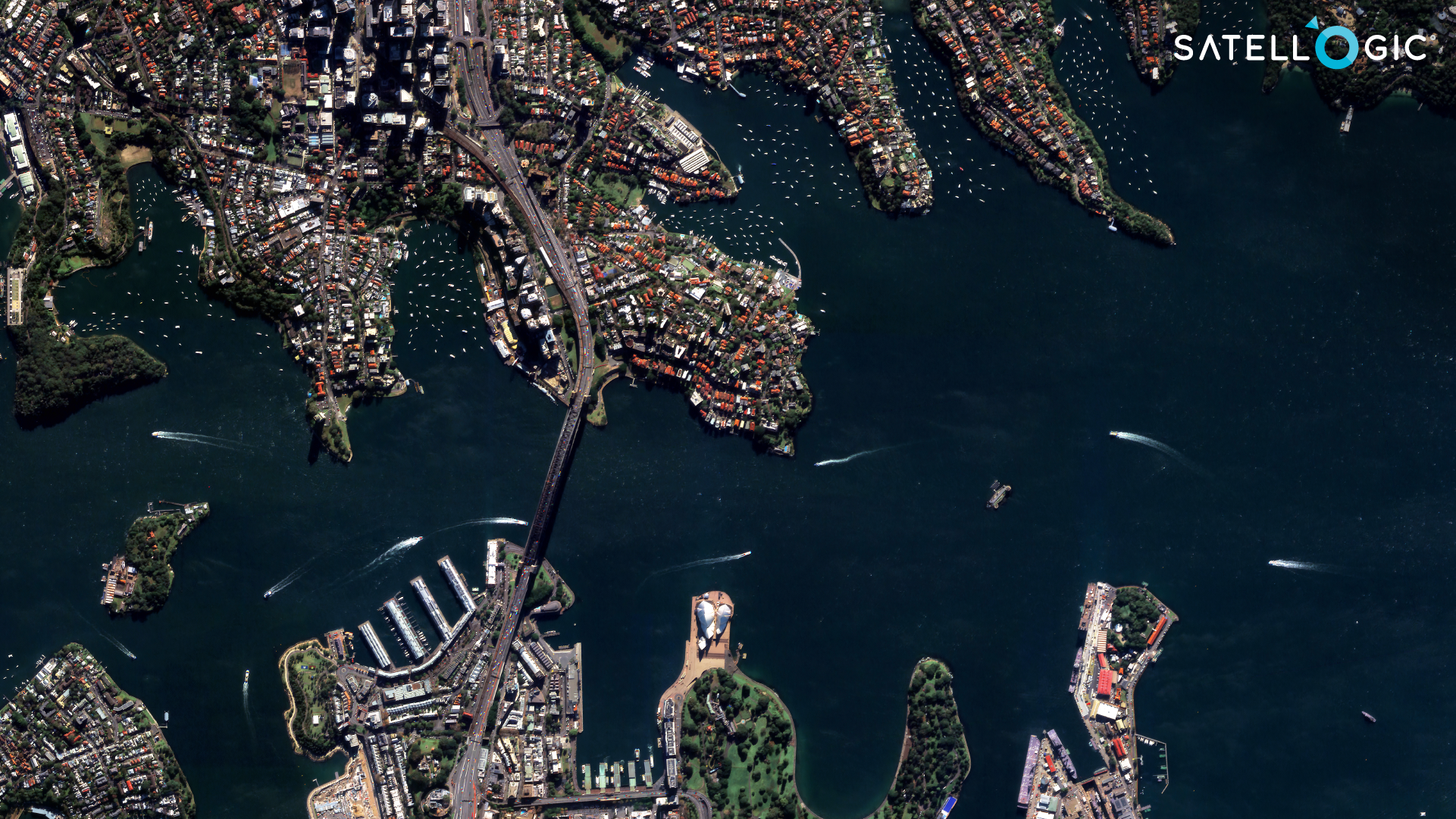 A capture of Sydney, Australia, with the famous Sydney Opera House visible by the image's center. Ruby Payne-Scott, one of our celebrated women in STEM and a radio physics pioneer, was born in New South Wales and studied physics — among other disciplines — at the University of Sydney, the country's oldest university.
Tromsø's antennas, now operated by the Norwegian organization KSAT and still functioning, serve over thirty satellites and have been utilized by spacecraft from the United States, Canada, and European nations. The Tromsø Satellite Station is an example of the importance of open, transparent research and communication and how discoveries in one corner of the world can boost efforts far away.
The many languages of NASA
Astronauts and spacecraft, usually part of government-backed programs, are the most visible part of space exploration and usually indicate a sovereign capability. But data suggests that even national programs rely on international cooperation from within.
Besides the exemplary case of the ESA, comprising 22 countries and over 2,000 employees from diverse regions, some federal programs also count on a multilingual workforce.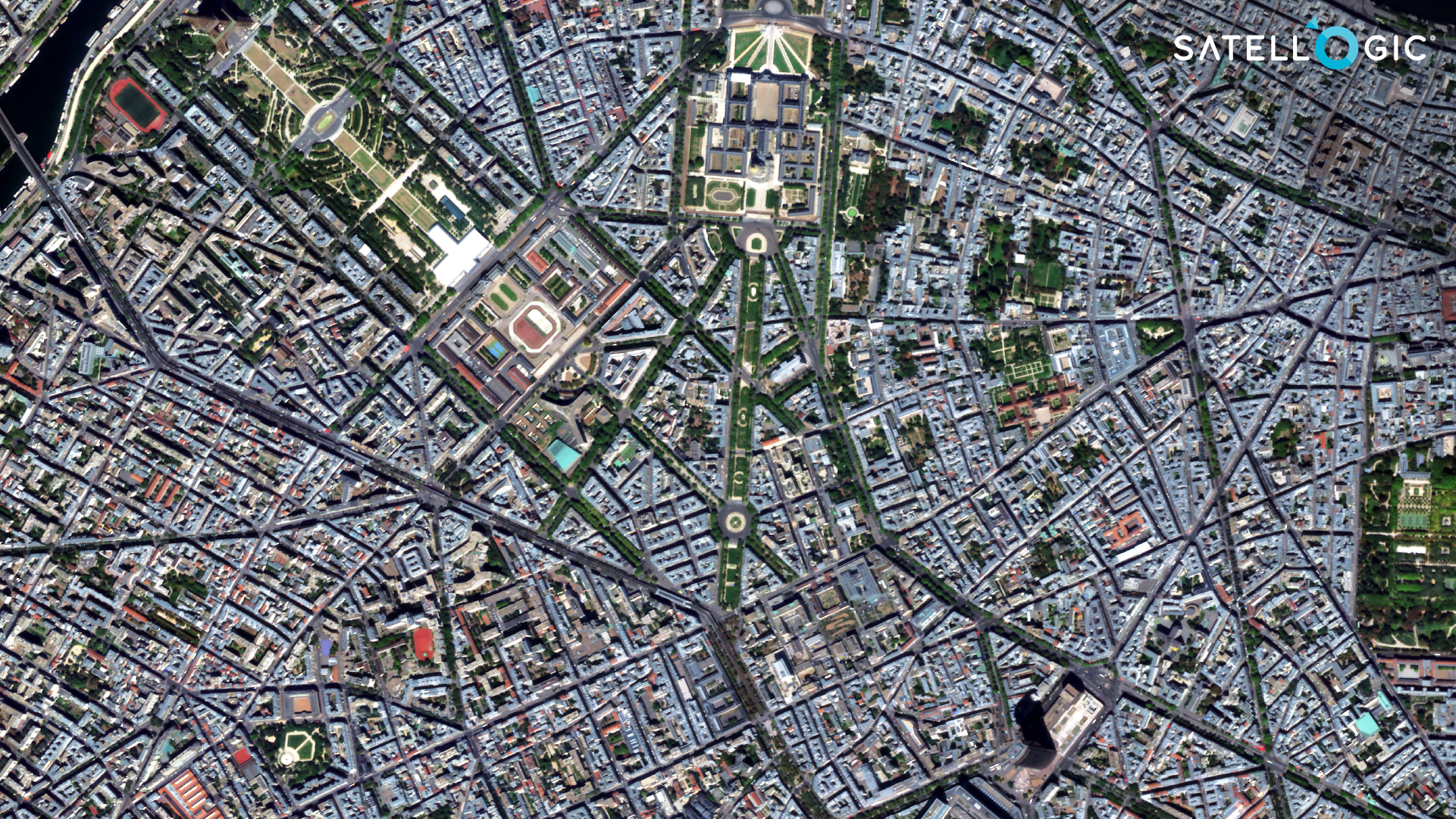 A high-resolution capture of Paris, France. The headquarters of the European Space Agency are located in the French capital.
Such is the case of NASA. The space agency from the United States, represented last week by Frank Rubio, the first Salvadoran-American astronaut to make it to space, recently reported that a significant part of its workforce speaks either Spanish, French, or German — hinting to a diverse, international staff. Satellogic follows this example: twelve years after our foundation, our multilingual teams are present in twelve countries.
Visiting the roaming Halley's Comet
Halley's Comet, the wandering celestial body that caught humankind's eye in the late eighties, has been passing through our sky for millennia — or possibly more. The famous comet, named after a British physicist, was first documented more than 2,200 years ago by ancient Chinese astronomers, before many of the nation-states we inhabit today existed.
In 1986, the ESA conducted the Giotto mission, which successfully imaged the shape of the comet's nucleus and captured the first evidence of organic material in a comet. The mission required a multi-generational and multinational workforce to unveil the mysteries of a celestial body that had captivated humanity for centuries.
In 2010, the Japanese robotic spacecraft Hayabusa brought the first-ever samples of an asteroid back to Earth — continuing to advance humanity's understanding of the universe.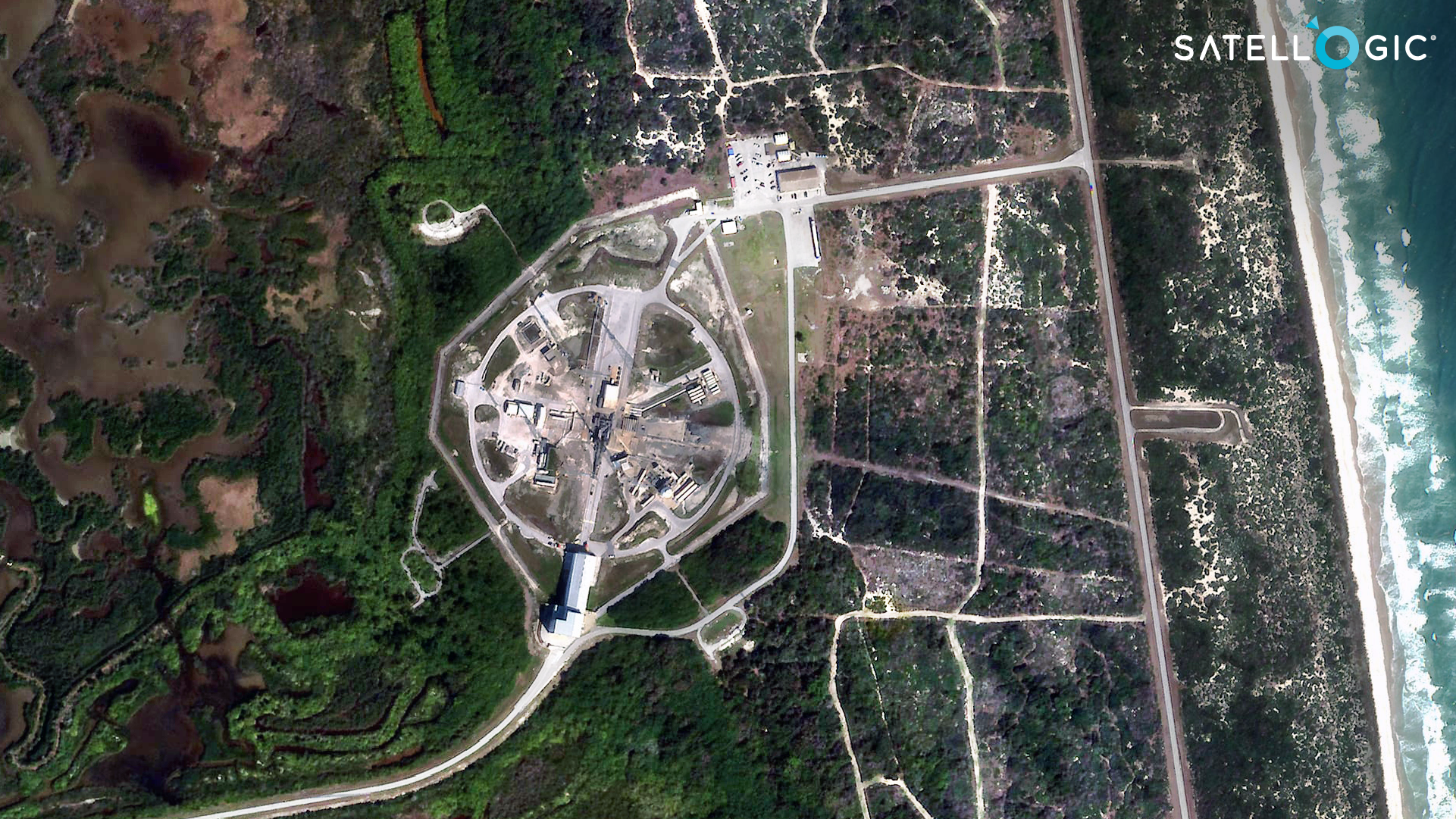 Cape Canaveral, Florida, is known for NASA launches. Still, the site is also used by other organizations such as SpaceX, Satellogic's launch partner.
More than seventy space programs
According to the UN, more than 70 countries have space programs as of 2022. Some are relatively new; programs from nations such as Rwanda, Costa Rica, Australia, and the Philippines started in the last five years. The Republic of Albania might be the latest country to join this list: the Government of Albania recently announced a contract with Satellogic to develop a space program under our Constellation-as-a-Service model.
And despite the economic impact of 20th-century geopolitical transformations, nations such as Kazakhstan, Nigeria, and Egypt have developed successful space programs in recent years. In 2015, the cosmonaut Aidyn Aimbetov became the third Kazakh to visit space but the first to do it under Kazakhstan's flag. Aimbetov traveled with Andreas Mogensen, the first Dane to visit the International Space Station.
Nigeria — six satellites — and Egypt — nine — are some of the leading nations in the booming African satellite sector: Almost half of all satellites launched by African countries have been sent into space in the last six years alone. The continent is looking at its space industry from a multinational angle. In 2018, to foster collaboration, under-30-entrepreneur Oniosun Temidayo founded Space in Africa, a Lagos-based consulting firm that has estimated that the continent's space industry will be worth more than $22 billion by 2026.
And for those nations without space programs, a growing number of collaborative initiatives and commercial organizations are enabling governments to leverage space capabilities and space-based data sans infrastructure investments. This type of cooperation is driving enhanced decision-making at a local and global scale for objectives like national security, disaster response, and environmental conservation.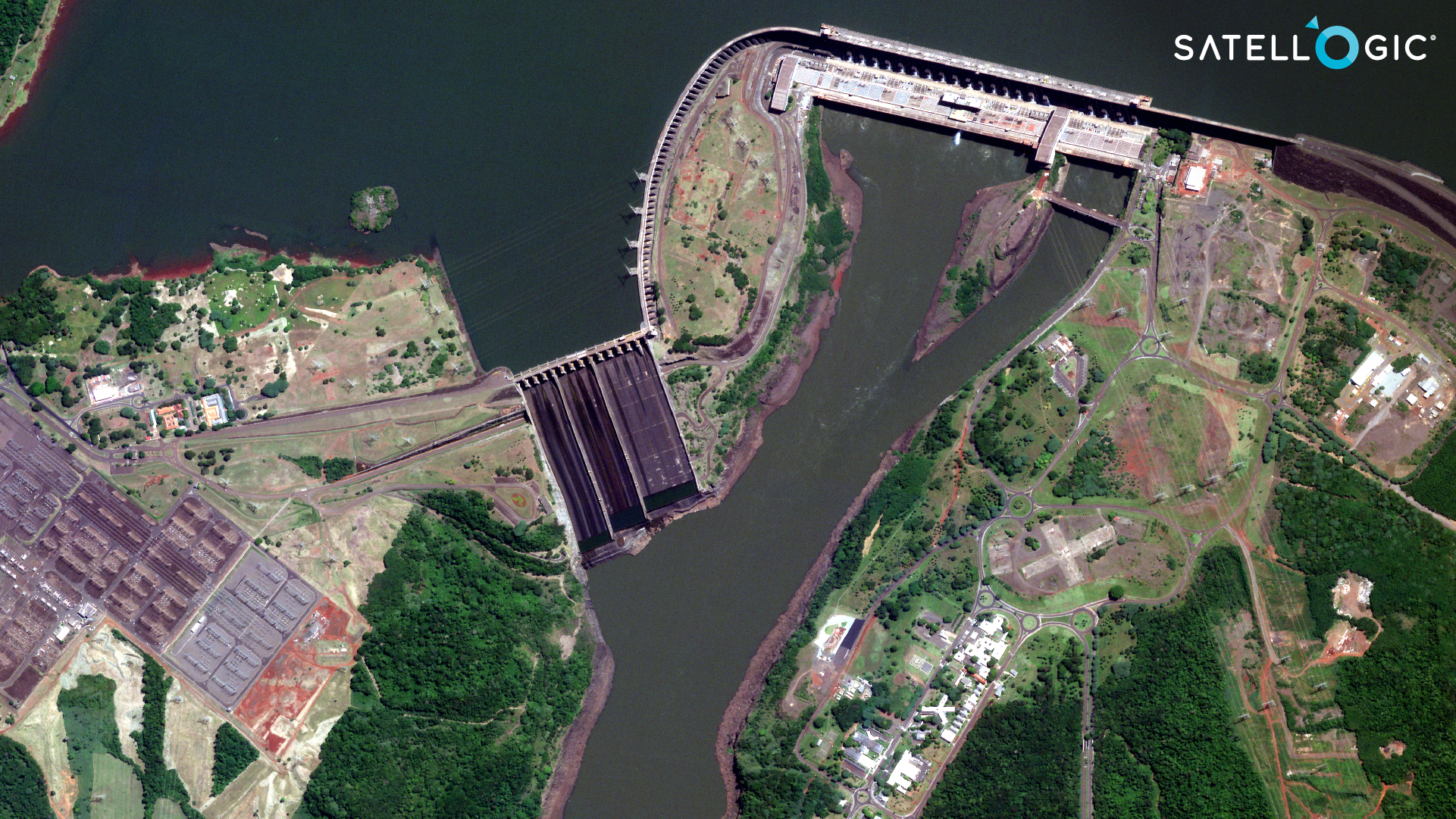 A satellite capture of the Itaipú Dam on the border between Paraguay and Brazil. Countries that don't have a space program can still rely on accessible Earth Observation data to monitor essential assets.
World Space Week
The World Space Week was established in 1999 to commemorate milestones and international cooperation achievements in space. Even today, space agencies and commercial organizations worldwide are working together toward a higher purpose: understanding the last frontier and how we can leverage this knowledge to improve life on Earth. Passion, purpose, and integrity are common attributes among professionals in the space sector, be it for exploration, communications, or Earth Observation. Such traits allow for the Earth Observation industry to forge collaborations for the sake of improvement. In that vein, Satellogic collaborates with the International Disaster Charter (IDC), which aids disadvantaged communities and serves vulnerable populations. Thanks to the updated stream of EO data, IDC analysts can monitor refugee camps and hazardous areas, among other exposed communities.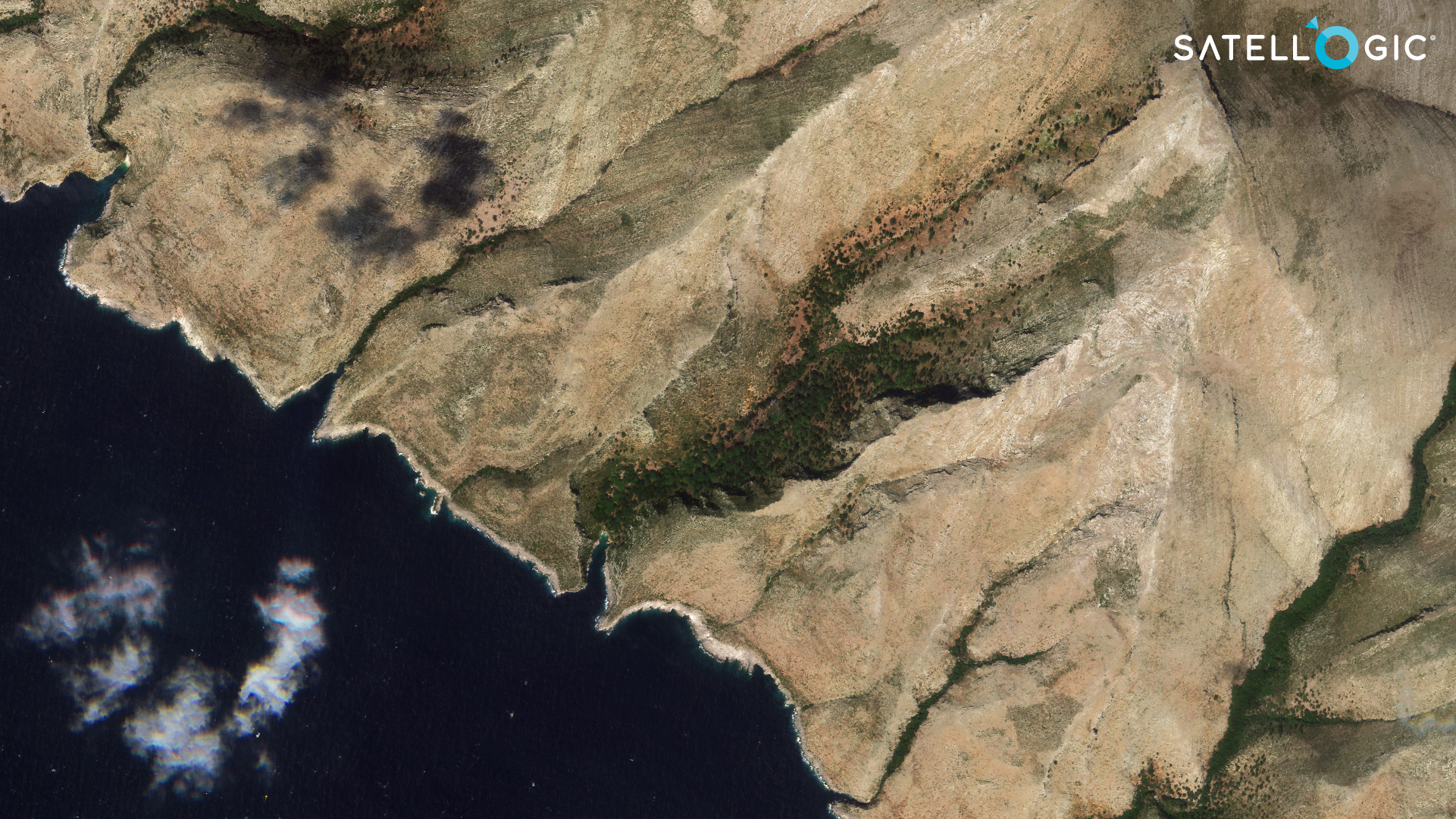 A satellite capture of Llogara National Park in Albania, by the Adriatic Sea. The Albanian government recently announced a contract with Satellogic to develop a space program via our Constellation-as-a-Service model.
We all share a home planet. Its health is also a shared responsibility. Satellogic is a global company with a team distributed across more than 12 countries. We believe in collaborating across borders to share critical information, develop practical solutions, and move humanity forward.
Let's celebrate the history and success of working together as we continue to collaborate on a more sustainable future. We must continue to work together for our planet and the future of humanity.
Happy World Space Week!