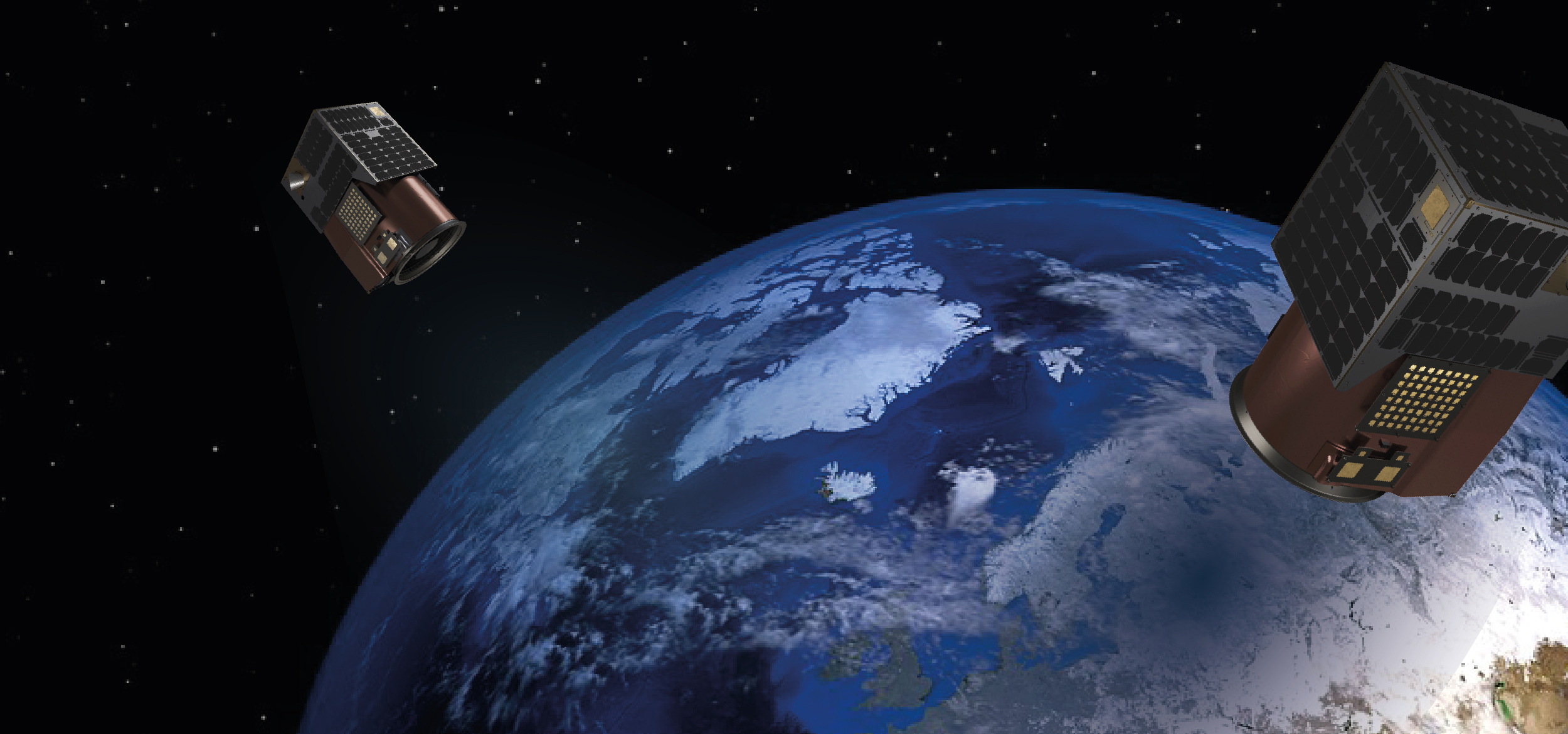 It Takes a Global Village: Building True Digital Twins to Drive Geospatial Adoption
By The Satellogic Team
By addressing key impediments to data access and data integration, Satellogic presents the true potential of the digital twin concept to advance life on Earth and the future of the geospatial information ecosystem.
One way the world evolves is by sharing insights and data. We strongly believe in this premise and that collaboration across the Earth Observation (EO) sector segments will boost the entire geospatial information ecosystem while removing barriers to access. One of the developments on which the geospatial information ecosystem can collaborate and thrive is the true digital twins.
What is a true digital twin?

From Satellogic's perspective, a digital twin is an accurate representation of all data layers in a given location. A digital twin is not just the built and natural environments seen from space: based on the premises outlined by a recent Forbes article, it could also involve the infrastructure interiors, plumbing systems, air quality, water quality, building floors, power grid connections, Wi-Fi accessibility, real estate records, and many other data layers.
Thomas VanMatre, VP of Global Business Development at Satellogic, describes true digital twins as "holistic" assets. True digital twins take into account more than what can be observed from imagery collection. These assets incorporate specifics such as building information modeling (BIM) data, atmospheric data, IoT data, geological data into what VanMatre calls "a persistently collected, rich data stack for the environment you are trying to 'twin.'"
This super data stack creates an invaluable database for nearly every application: emergency response, public works, insurance, law enforcement, commercial real estate, retail, telecommunications, and energy can all take advantage of a comprehensive digital twin.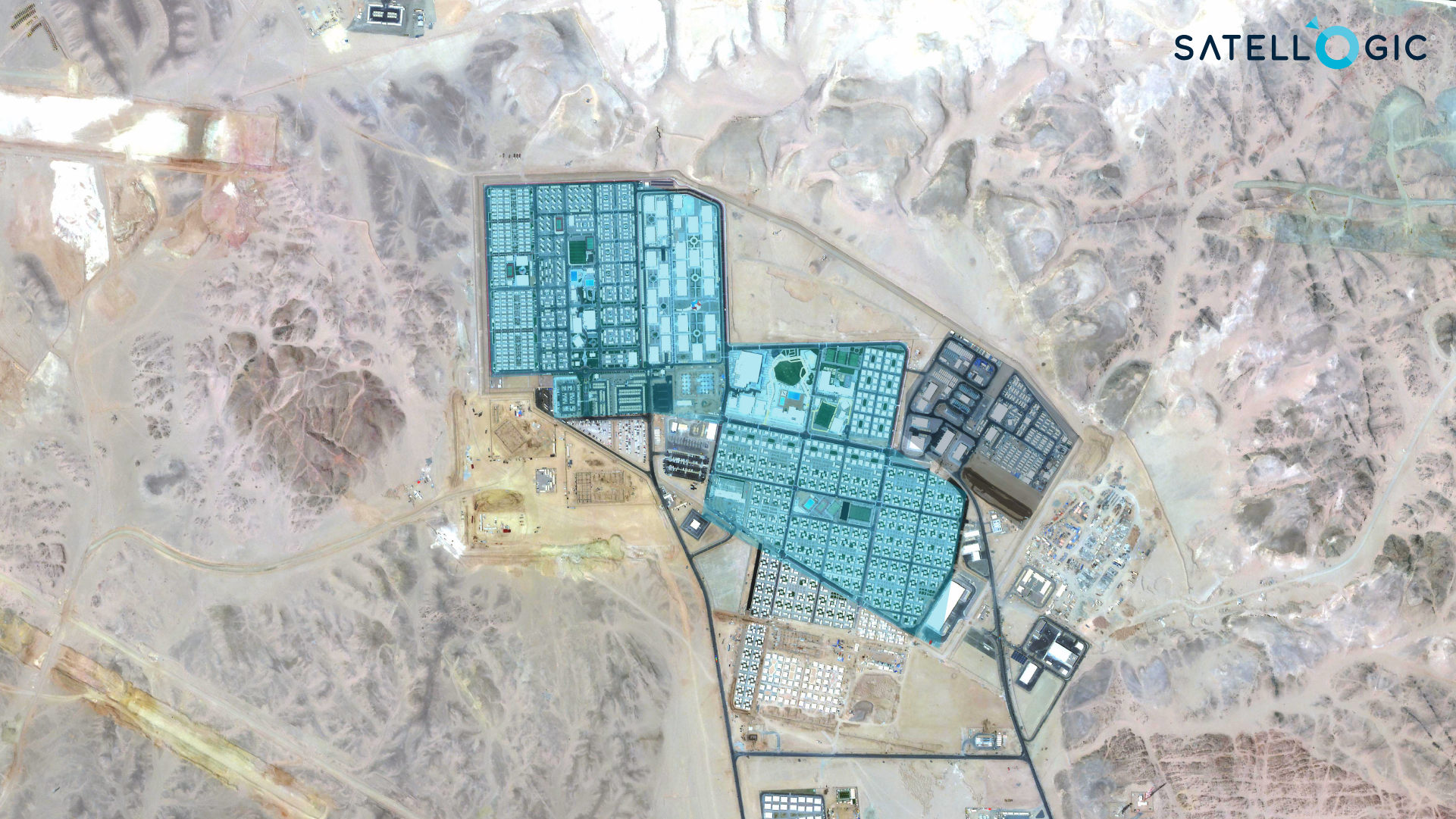 A multispectral capture of The Line, a smart city project in Saudi Arabia. Building footprints show the polygonal shapes of constructions.
Despite its potential advantages, there are several current impediments to procuring and leveraging geospatial information to this scope. Currently, improving access and adoption to EO data — even for advanced developments like digital twins — is limited by budgets just as much as by uneducated markets and untrained models.
For example, the Earth Observation sector should discuss the cost of producing digital twins. Traditionally, satellite imagery and derived datasets are prohibitive resources. Furthermore, for organizations that haven't been educated on the value of the data, creating a digital twin is an expense they won't consider. According to VanMatre, Earth Observation companies aspiring to develop a digital twin product or service need to have a "multi-faceted data collection approach that values persistence and data fidelity above all else."

This comes with its challenges. Since, from VanMatre's viewpoint, a "true" digital twin connotes an authentic representation of a defined environment, it's an accomplishment "incredibly difficult and expensive to produce at scale."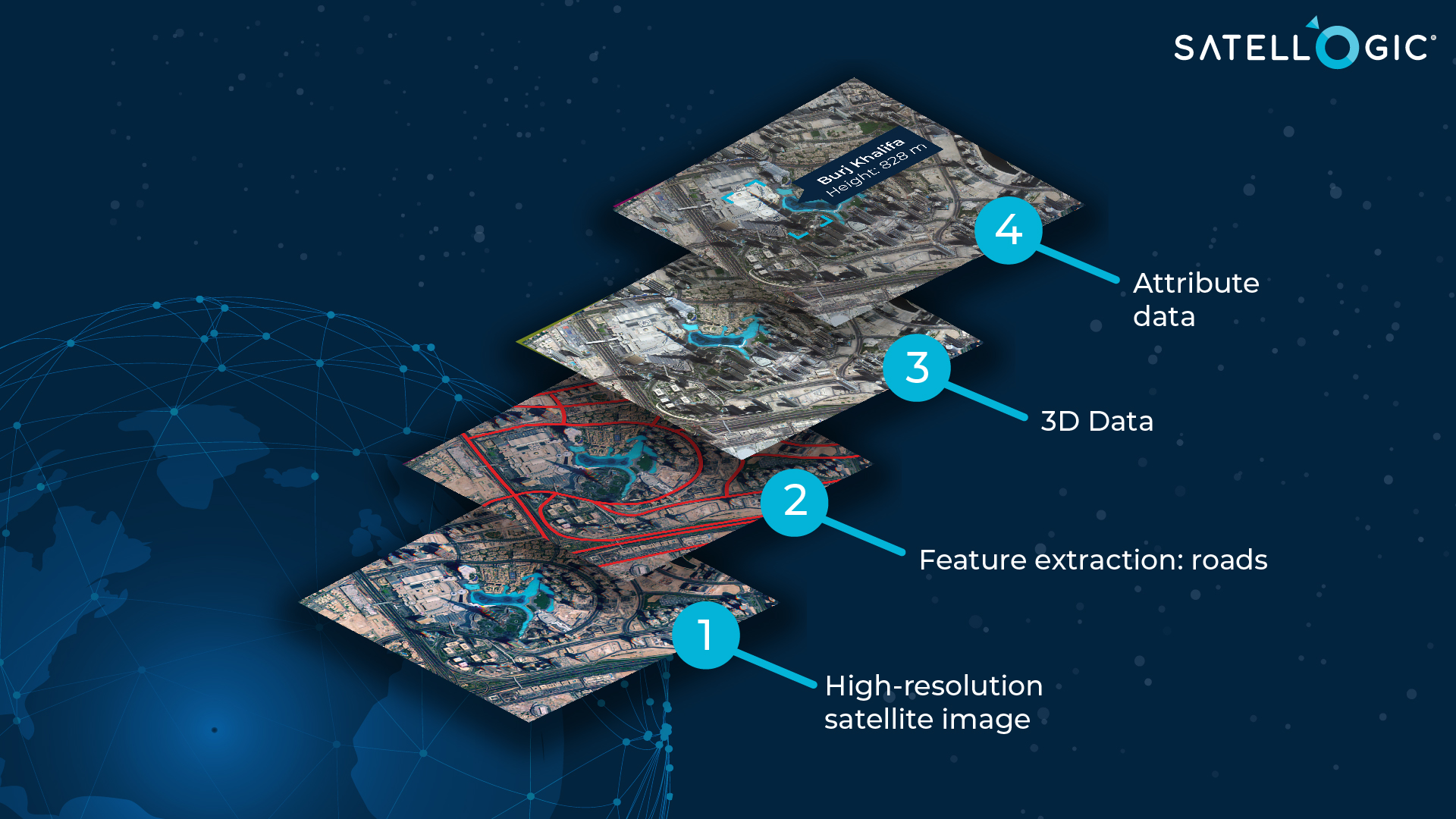 A graphical representation of the different data layers of true Digital twins.
Fortunately, the industry can take steps to cut the price of Earth Observation data. To that extent, at Satellogic, we designed a more cost-efficient EO satellite to reduce end-user prices while developing transparent pricing models that address the needs of different applications. Improving data cost-efficiency and availability will encourage new markets to investigate, experiment with, and adopt it.

How can we educate current prospects and invest in the future geospatial workforce as an industry? If we want wider acceptance, we should also address education to inspire and train new users.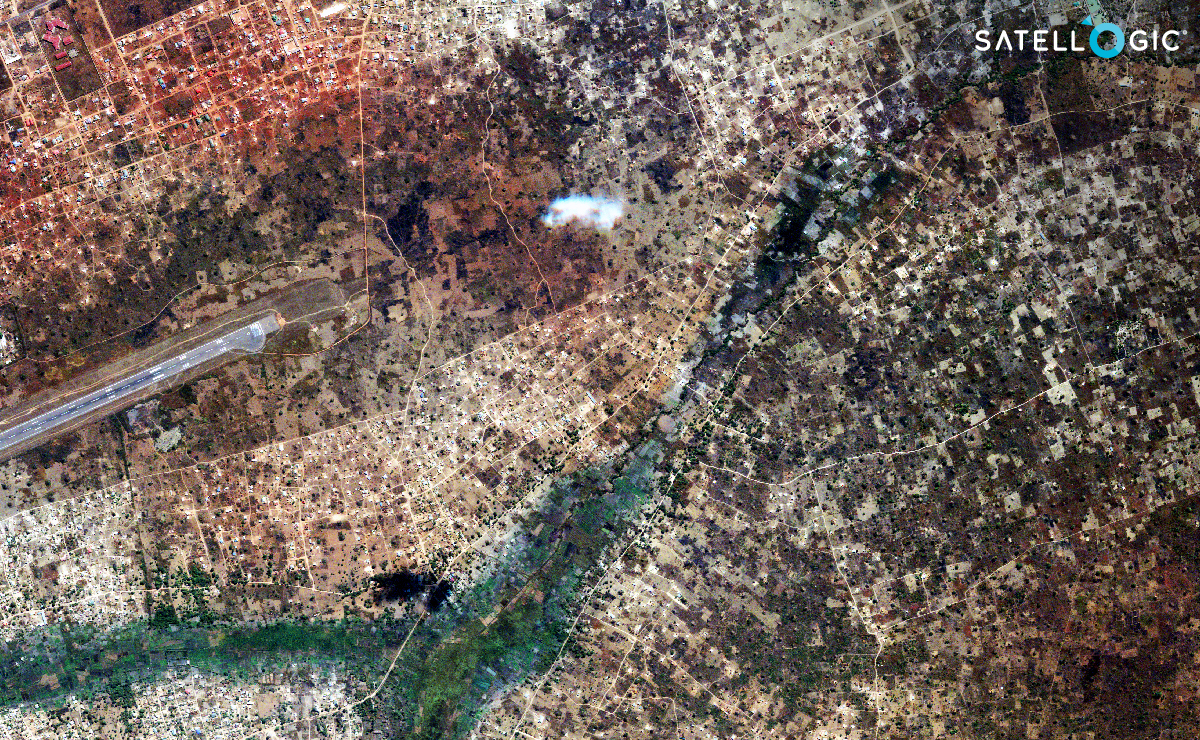 A capture of Lubumbashi, a city in the Democratic Republic of the Congo. True digital twins can help categorize elements in the surface, from private real estate to constructions of public interest, such as the runway on the left.
At Satellogic, we plan to address these issues by using dynamic pricing to increase affordability and offering analysis support and user guides through Aleph, our intuitive platform to order captures and search our library, among other features. Likewise, we are actively pursuing partnerships with organizations like Astraea, AWS, and ESRI to develop accessible, low-cost resources that enable secure access to data on demand.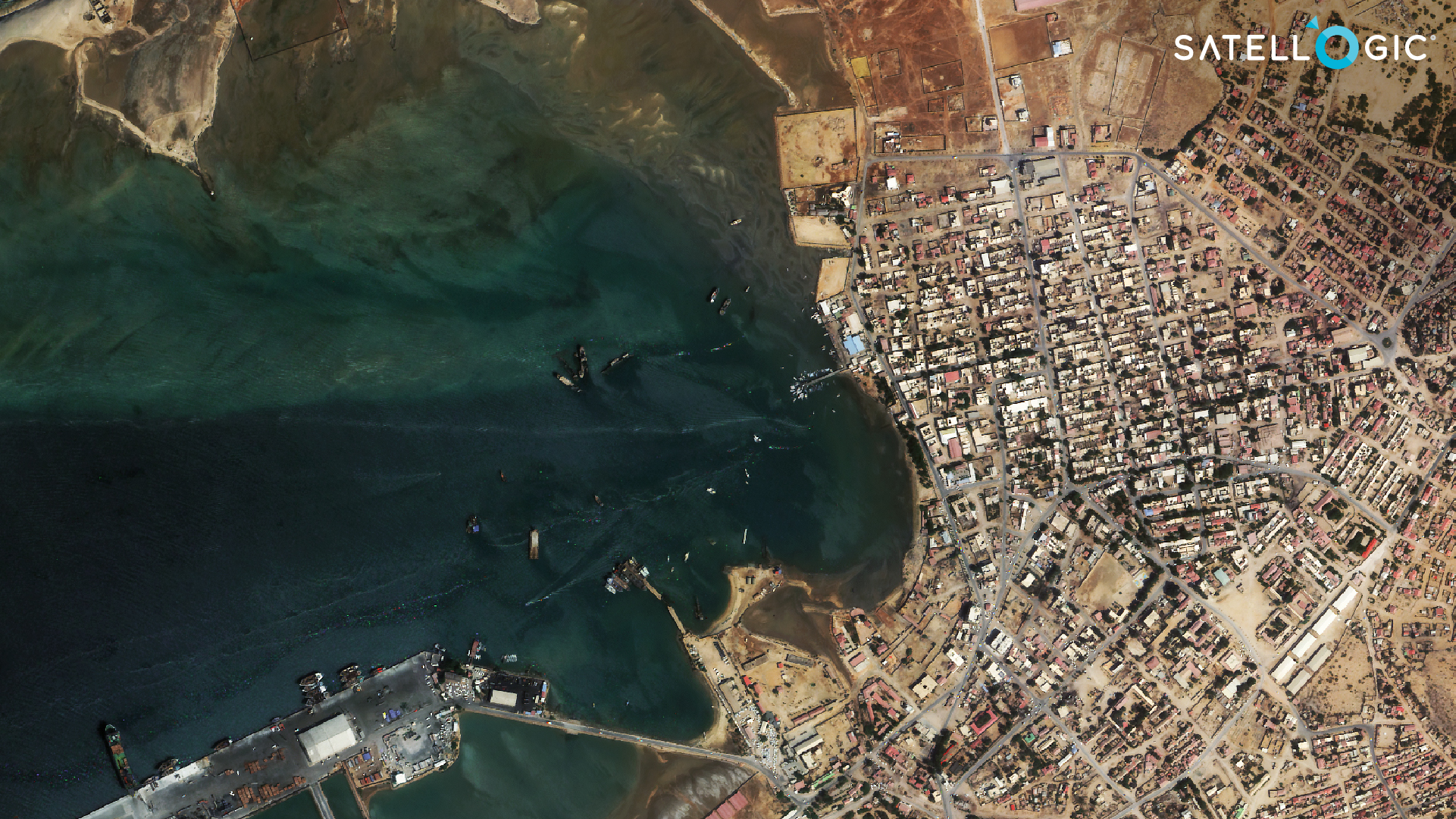 This capture shows the deep seaport of Berbera, in Somalia. True digital twins can feature Digital Surface Models (DSM) that provide 3D shapes of structures such as warehouses or quays. True digital twins can also point out how many ships are docked on a certain date
Geospatial information enhances decision-making every day. Our team is working to do so at every level, from remote communities and urban cities to nations and continents. We work with customers to delve into the unique challenges of each industry, the different operating models, and the ecosystem relationships that shape specific requirements for Earth Observation data and true digital twins.